Overview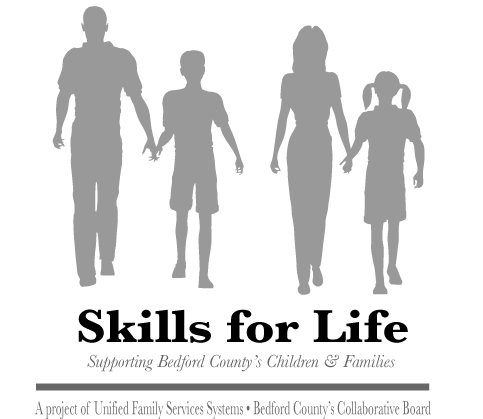 Skills for Life, (known nationally as LifeSkills Training) is an internationally recognized evidence-based youth prevention and development program designed to support middle and junior high students and their families. Competitively funded through a $520,000 grant from the Pennsylvania Commission on Crime and Delinquency Research-Based Delinquency and Violence Prevention program, the project began in all Bedford County school districts during the 2007-08 school year.
In replications around the United States, the program has been proven to reduce the risks of alcohol, tobacco, drug abuse, and violence by targeting the major social and psychological factors that promote the initiation of substance use and other risky behaviors. This comprehensive program provides adolescents and young teens with the confidence and skills necessary to successfully handle challenging situations.
Rather than merely teaching information about the dangers of drug abuse, LifeSkills Training promotes healthy alternatives to risky behavior through activities designed to:
Teach students the necessary skills to resist social (peer) pressures to smoke, drink, and use drugs.
Help students to develop greater self-esteem and self-confidence
Enable students to effectively cope with anxiety
Increase their knowledge of the immediate consequences of substance abuse
Enhance cognitive and behavioral competency to reduce and prevent a variety of health risk behaviors
School-based program
Grades 6-9, (taught in three consecutive grade levels, first grade level depends on school configuration - taught to all Bedford County students for three years)
Three level program consisting of 30 class sessions
Level 1 (Grades 6/7): Core Level- 15 class sessions includes 3 optional violence lessons
Level 2 (Grades 7/8): Booster Level- 10 class sessions includes 2 optional violence lessons
Level 3 (Grades 8/9) - Booster Level - 5 class sessions includes 2 optional violence lessons

Parent Program
The LifeSkills Training Parent Program is designed to help parents strengthen communication with their children and prevent them from using drugs. The comprehensive guide and video included in this program contain materials and exercises that help parents keep their kids away from threats of tobacco, drugs, and violence. These tools help parents prepare their children for a successful transition from adolescence to early adulthood. The program is being supported by Family Support Facilitators in each Bedford County School District and supported as a self-paced program and in parenting workshops – comprehensive series for groups of parents and individual, targeted workshops to groups such as PTA's and community civic organizations. E-mail for more information, including how your community/civic/faith-bsed group can host a free workshop for your organization.
Results of LifeSkills training around the United States (students who received Lifeskills Training versus control groups:)
87 percent reduction in tobacco use
60 percent reduction in alcohol use
75 percent reduction in Marijuana use
Reduces Pack-a-Day Smoking by 25%
Decreases Use of Inhalants, Narcotics and Hallucinogens
Reduces Violence
Reduces the risky driving behavior

More information on the national program: www.lifeskillstraining.com
UFSS Home | Communities that Care | Integrated Children's Services | Raising Healthy Children | Skills for Life | The Incredible Years | Family Centers of Bedford County
Unified Family Services Systems
195 Pennknoll Rd., Everett, PA 15537 • Voice: 814-624-4810 • Fax: 412-291-1049 • E-mail
Copyright 2010 Unified Family Services Systems